Journal #68 – December 2015
Orlando Luis Pardo Lazo
Finally he had been left alone. Stooped, his perfect Greek profile had now become like that of a vulture. A kind of unkind condor. Carrion claws dripping with his own feces, a layer of bacteriostatic containment. I'm talking about biology. About beauty, that is. And I am, of course, talking about him.
There is a certain sense of classical wisdom in the birds of prey. Something noble in their adapted gestures of eating cadavers. A symptom that life never ends. These are cynical cycles. A circus. A puppet show for the peanut gallery. You have to bewitch and beguile the masses with something. They cannot be left alone, not even by silence. An act of prestidigitation. A word of faith, of fidelity. And in that he has always been much more than insurmountable. He was him. That was enough for him; that was enough for us.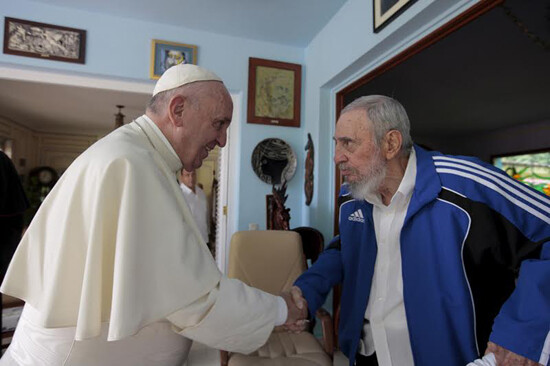 Pope Francis and Fidel Castro shake hands on Sunday afternoon in September, 2015.
Give me an F, give me an I, give me a D, give me an E, give me an L … What's that spell?
He is not even remotely senile, as his enemies from halfway around the globe and within the island itself will say. He is simply alone, comrades. Alone in body and soul in an unrecognizable world, surrounded by reminiscent faces. An autistic autocrat. Traces of the most intimate totalitarianism of all, from the cradle. The key words from Citizen Kastro: rosebud, revolution …
All around, everyone understands the scene perfectly. They smile compassionately at Fidel. They fire fossilized photos with impunity. They feel privileged to attend the final anecdotes of a social process, his Kafkaesque social process. The difference being that, here and now, everyone can steal their way into the castle. Now, nobody wants to escape. It's not cool to abandon the trenches. It's not even profitable. The comandante will have no one to write to, but everyone comes to snap a selfie with him. The historic Happy Hour. The piñata of the paternal land in the pillory. Merry marketing, Fidel.
It is also true that everyone appears somehow impatient or perhaps even nervous in their personal style. They know that the Revolution ends with that lingering, cachectic corpse. They know that the consequences will be more physical than they will be legal or lethal. So they enjoy these marvelous moments of preposthumous peace. Every intense instance is an instant materialistic miracle. They say he was a good president because the Cubans who were left believed in Him.
Meanwhile, we crane our necks with morbid curiosity to see the emptied eyes of the Inferior Leader, the Companion in Chief who no longer holds any dictatorial office, the assassinating, amnesiac, ancestral amigo who now is barely able to dedicate himself to touching objects with his finger, suddenly as innocent as that of a baby. It's almost as if we have given birth to Fidel after so many illusions, so much intrigue, such paranoia and paternalism, such remoteness, such tracheal pain, which is where our vestigial spirit lies: in the glands.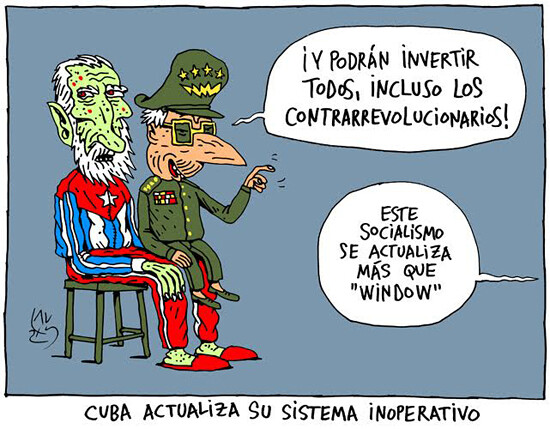 Alen Lauzán's cartoon of Fidel Castro is captioned "Cuba updates its inoperating system." while the speech bubble to the left states "And everyone, including the counterrevolutionaries can invest." The speech bubble to the right remarks that "Cuba updates its sofware more often than Windows."
After having imposed his jack-booted truth, as an ethical strategy of governance, Fidel now stands before us living in Braille. He sees nothing, and nobody sees him. He needs contact, his forefinger antennas of a Galician fascist, a Fragas forged from a twentieth century that did not end until the year zero or two thousand when Fidel bled his tainted intestinal fluids.
This is why his death will be a tactile one. The Cuban administration of last rights will leave tiny spots on his olive-green skin—textilic tattoos—Castrolic ticklings by the feminine hands of Cardinal Jaime. Jaime loves him. And the parishioners love Jaime with false bliss, a trick of translation, and a dirty smirk. J'aime, Jaime.
He is not even remotely that senile, comrades, as we say in order to not feel quite so bad about our presence before him. We are those who are, in any case, that senile. We were always being sensually senile to Fidel. A bit of a retarded people, torpid in the tremendous trick-and-treat that was the Utopia upon the face of the Earth. Excremendous. The etymological blockage of no-place. Topless topology. War-blind moles. The era was giving birth to Fidel's heart. Constitutional Cœurism.
A community so common we even applaud the imprimatur under which Fidel possessed us for half a hundred years of solitude. History has hysterectomized us. We renounce myths and histologies. We let him impregnate us in a manger for talented tyrants, where he could be a Caudillo and a Stallion as he wished, a stud in solitary salvation, a satanic saint facing the world first before now turning his back on the worldly.
Fidel embodies an exquisite state of futurity. As always, he got decades ahead of the Cuban people. Fidel is the ghost that, in the next twentieth century, we will become without him.
Translated by Ezra E. Fitz
NO SOMOS NADA
Orlando Luis Pardo Lazo
Finalmente ha quedado solo. Encorvado, su perfil griego perfecto devenido ahora el de un vultúrido. Un aura. De garras carroñeras cagadas por sus propias heces, como barrera de contención bacteriostática. Estoy hablando de biología. Es decir, de belleza. Estoy, por supuesto, hablando de él.
Hay algo de sabiduría clásica en las especies rapaces. Algo de nobleza en el gesto adaptativo de comer cadáveres. Un síntoma de que la vida nunca termina. Son ciclos cínicos. Un circo. Teatro de títeres para la muchachada mediocre. Hay que hechizar y hechizar a las masas con algo. No se les puede dejar solas ni por un silencio. Un acto de prestidigitación. Una palabra de fe, de fidelidad. Y en eso él ha sido siempre mucho más que insuperable. Él era él. Con eso le bastaba, con eso nos bastó.
Dame la F, dame la I, dame la D, dame la E, dame la L: ¿qué dice?
No está ni remotamente senil, como dicen sus enemigos desde las antípodas del planeta y desde las catacumbas de la propia isla. Está simplemente solo, compañeros. Solo en cuerpo y alma en un mundo irreconocible, rodeado de rostros reminiscentes. Autócrata autista. Trazas del totalitarismo más íntimo, de cuna. Palabras claves del Ciudadano Kastro: rosebud, revolución…
A su alrededor, todos entienden la escena a la perfección. Le sonríen con misericordia a Fidel. Le disparan fotos fósiles con impunidad. Se creen privilegiados de asistir a las últimas anécdotas de un proceso social, su proceso kafkiano. Con la diferencia de que aquí y ahora se cuelan todos en el castillo. Ya nadie se quiere escapar, no es cool abandonar las trincheras. Ni siquiera es rentable. El comandante no tendrá nadie a quién escribirle, pero todos viene y se tiran un selfie con él. Happy hour histórico. La piñata de la patria en la picota. Merry marketing, Fidel.
También es cierto que cada cual se nota algo impaciente o acaso nervioso en su propio estilo. Saben que la Revolución está terminada junto a ese cuerpo que cancanea, caquéctico. Saben que habrá consecuencias más físicas que legales, letales. Por eso disfrutan estos momentos maravillosos de paz prepóstuma. Cada intenso instante es un milagro materialista sin más ni más. Dicen que fue buen presidente porque los cubanos que quedaron creían en Él.
Mientras tanto, nos asomamos con morbo a los ojos vaciados del Mínimo Líder, del Compañero en Jefe que ya no ostenta ningún cargo dictatorial, del amigo ancestral amnésicamente asesino, y que ahora apenas se dedica a tocar objetos con un índice de pronto tan inocente como el de un bebé. Casi que hemos parido a Fidel, después de tantas ilusiones e intrigas, de tanta paranoia y paternalismo, de tanta lejanía y dolor de tráquea, que es donde se esconde —en una glándula— nuestro espíritu vestigial.
Tras haber impuesto su verdad a botazos, como estrategia ética de gobernabilidad, Fidel está ahora ante nosotros viviendo en Braille. Nade ve, nadie lo ve. Necesita el contacto, las antenas de sus índices de gallego facha, fragua de fragas de un siglo XX que no terminó hasta que en los años cero o dos mil Fidel se fue en sangraza intestinal.
Por eso su muerte será táctil. El amén cubano de extremaunción le llegará con puntitos apretados sobre su piel verde oliva —tatuaje textil—, cosquillita castrólica de las manos mujeres del Cardenal. Jaime lo ama. Y los feligreses aman a Jaime con una felicidad falaz, de traducción trucada y sonrisita soez. J´aime Jaime.
No está ni remotamente eso mismo, compañeros, como decimos para no sentir tanta pena por nuestra presencia ante él. Seniles, en todo caso, estamos nosotros. Siempre estuvimos sensualmente seniles para Fidel. Un pueblo retrasadito, los tarados de ese tupe estupendo que fue la Utopía sobre la faz de La Tierra. Heztupendo. La tupición etimológica del no-lugar. Topos. Ceguera de guerra. La era estaba pariendo el corazón de Fidel. Cœurtrismo constitucional.
Un pueblo tan pueblo que hasta aplaudimos el imprimátur con que Fidel nos poseería durante semicien años de soledad. La historia nos histerectomizó. Renunciamos a mitos e histologías. Lo dejamos preñarnos en un pesebre para tiranos con talento, donde él pudo ser caballo y caudillo a su antojo, semental en una soledad salvífica, santo satánico de frente al mundo primero y ahora de espaldas a lo mundano.
Fidel encarna un exquisito estado de futuridad. Como siempre, se nos adelantó demasiadas décadas a los cubanos. Fidel es el fantasma que en el próximo siglo XX seremos sin él.